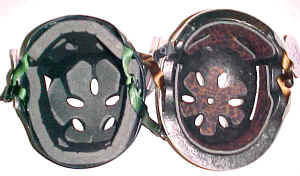 | | |
| --- | --- |
| 2 Stage Foam | SXP Foam (CPSC Certified) |
| 2 Stage Foam is thick and sticks to the shell of the helmet by velcro tabs. | The SXP foam is not removable and connected to the shell of the helmet. A thinner padded liner sticks to the SXP by velcro tabs. |
| | |
| Notice the thickness of the removable foam insert. Crown piece is not replaceable. 2 Stage Foam is more comfortable to wear and fits more snug on the head. 2 Stage Foam helmets have a lower profile on the head. | Notice that the padded inserts are much thinner than the 2 stage foam and crown piece is replaceable. SXP provides more impact resistance than 2 Stage Foam. Helmets with SXP have a bigger profile on the head. |
| | |
CPSC certified (SXP foam) helmets are mandatory in California.
Surface activated eXpanded Polypropylene (SXP), a patented, multi-impact helmet technology that is ideal for the aggressive riding style of action sports athletes. When conventional helmets take a hard hit, the foam liner compresses and stays compressed, losing most of its impact absorbing properties. Due to the advanced chemical structure and sophisticated processes used to create SXP helmet liners, Pro-tec pushes beyond the norm by offering multiple impact protection that far exceeds the competition.
Click here to find out more about CPSC certification.
---